Mark Fairweather Tall
July/August
Church Launch for "Who Cares?"
Next year, churches throughout Norfolk are going to be taking part in a mission to reach out to those in our communities. The idea is to carry out a one question survey that simply asks the question: "What hurts the most?" Pain is a universal language - as the song says, "everybody hurts sometimes." Often when we think about sharing our faith we are most concerned about what we should say. WHO CARES? offers a different approach... to listen and to show our care. As we do this, we may find more opportunities to share about The One who cares more than we can imagine. You can find out more about the mission here:
www.who-cares.org.uk/ and a report on the launch here: www.networknorwich.co.uk/Articles/366477/Network_Norwich_and_Norfolk/Regional_News/Who_Cares_mission_launched_to_Norfolk_audience.aspx
Launch of the "Who Cares?" Mission
In the big tent with 6000 or so others at the NewDay Youth Festival
Cricket match & Picnic
August once again saw NCBC up against Kings Community Church in our now annual game, combined with a picnic for those who aren't playing. A beautiful summer's day saw a competitive match which Kings ultimately came out on top of by about 12 runs (I couldn't stay for the end of the match)
Here are some pictures:
Tabernacle visit
Towards the end of July, I was able to visit a Tabernacle - built to the dimensions laid our in the Old Testament. Run by 'Call to Prayer', it takes you on a journey to see how the New Testament message of Jesus and the cross can be seen through the setting of the Tabernacle. It was an excellent and well worth while experience.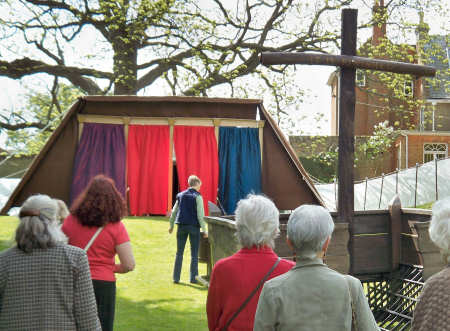 Church Family News
Over the last few weeks there has been both wonderful and sad church family news.
Bill and Karina were baptised - a fantastic service with great testimonies. Then Karina followed this up by getting married to Gab the following week - hope you will both be blessed and happy in your lives together. In July, we dedicated Hannah - congratulatinos to Phil & Judith. Plus there was a new baby boy for Lizzie and Aaron - exciting times.
We have also said 'goodbye' to two people. Ken Hipper and Betty Wilson have died. Our thoughts are with those who mourn: "Blessed are those who mourn for they will be comforted."Matthew 5:4
---